Home Page
Poetry Competition
ISPS Member Poems
Poem Index by Poet
Poem Index by Title
Poet Bios
ISPS Member Books
Submitting Poems
About ISPS
To Join ISPS
Guestbook
Other Sites
Benefactors ($50)
Jocelyn Ajami
Mary Jo Balistreri
Joe Glaser
Chris Holaves
Lee Johnson
Farouk Masud
Jenene Ravesloot
Myron Stokes

Patrons ($30)
David LaRue Alexander
William Carey
Debbie Crawford
Carole Croll
Dan Fitzgerald
Georgiann Foley
Marilyn Giese
John J. Gordon
Larry Hays
Sheila Kirscher
Emma A. Kowalenko
Jim Lambert
Bonnie Leer
Georgina Milsted
Tom Moran
Marilyn Peretti
Kathleen Robinson
Nancy Schaefer
Irfanulla Shariff
Rick Shaw
Ruth Siburt
Keith Skilling
Joe Solberg
Judith Tullis

In Memoriam
Sally Hanson Calhoun
Nancy Jean Carrigan
David Christensen
Don Cornwell
Phillip Egelston
Jonathan Foster, OFM
Patricia Gangas
Chris Holaves
Glenna Holloway
Usha Mahisekar
John Mahoney
Marguerite McClelland
Martha S. Moss
John Pawlik
Ina Perlmuter
James Reiss
Marge Samuel
Doyle Raymond Vines
Paul J. Wolf



Welcome to this website for the Illinois State Poetry Society, connecting ISPS members with each other and with the general public. Here you'll find information for and about this group of serious poets. Since June of 2000 we have been posting bimonthly editions of poetry written by ISPS members. All ISPS members are invited to submit a poem each two-month period. (How and when to submit) You are invited to read the ISPS member poems and haiga posted in April 2019 as well as previous postings.

To join ISPS through June, , please fill out our Membership Form and mail it with a check for $20.00. You don't have to be an Illinois resident to join ISPS, but you do need to be an ISPS member to have your poems posted in this website.
---
Upcoming ISPS Meetings
---
A Message from the ISPS President, April, 2019
by Susan T. Moss, ISPS President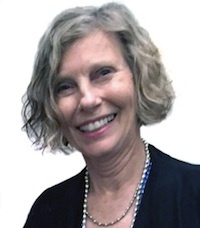 With the vernal equinox, signs of spring have begun to bud and bloom here in the northern section of Illinois. Ice mounds have receded to make room for early blooming yellow anemone and white snowdrops. Vibrant songs of robins and redwing black birds fill the chilly air. There is a string of continuity that calls living creatures and plants to start over again.
As we venture into the next season, Illinois State Poetry Society is pleased to welcome Kathy Robinson, present facilitator of the Champaign chapter and recent editor of the fourth volume of Distilled Lives, as our next newsletter editor. After many years of productive efforts, our former editor Kathy Cotton has retired, and we appreciate her years of service.
Another change to the ISPS Board is the historian position. Our gratitude goes to Frank Hubeny, a transplant to Florida, who added a digital archival system of the work initially documented by Carolyn Jevelian. We look forward to Mike Freveletti as our new historian who will also continue in the role of sending out William Shakespeare announcements.
For some of us, spring seems a good time to declutter and reevaluate what takes up space both literally and metaphysically in our lives. We may find old poems close to being finished but not quite right, the ripples of a new idea which wait at the corner of consciousness, scraps of paper filled with words and phrases to be either tossed or braided into the next poetic endeavor. With longer daylight, it might be a good time to plant new poems and weed the old.
We celebrate the lives of two fine and well-known poets who have passed away this year. Both Mary Oliver and W.S. Merwin filled their work with observations of life and efforts to connect with a greater whole.
Oliver noted in The Poet With His Face in His Hands, "the thrush,/puffing out its spotted breast, will sing/of the perfect, stone-hard beauty of everything."
Merwin, in his poem, "To the Tongue," reminds us that "Whatever we say/we know there is another/language under this one."
It's all right here—out the window, under our footsteps, in memories, as far as we can see and beyond. We endeavor to explain what persistently slips just beyond grasp, and yet that is the poet's job, the reason we keep creating.
Happy writing,
Susan T. Moss
stm48@hotmail.com
"Last Sunday" Poetry Reading, May 26, 2019
On Sunday, May 26, Chicago area poets John S. O'Connor and Alison O'Connor will be the first father-daughter poetry combo featured at Brewed Awakening. They will read and perform their poetry at the coffee shop, which is located at 19 West Quincy (across from the train station), Westmont, at 12:30 PM. John's guitar will also make an appearance. There will also be an open mic. Cover charge of $12.00 plus tax includes coffee or another beverage and a snack. The event is sponsored by the Illinois State Poetry Society and Brewed Awakening.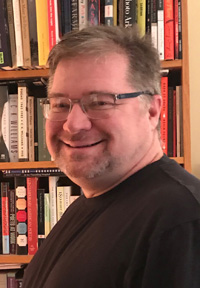 John S. O'Connor teaches at New Trier High School and at Northwestern University. His poems have appeared in many places such as Poetry East; RHINO; and The Cortland Review. He has written two books on teaching writing (Wordplaygrounds and This Time It's Personal), two books of haiku, and a recent chapbook of poems called Rooting. He is the creator and host of an education podcast: www.schooledthepodcast.com.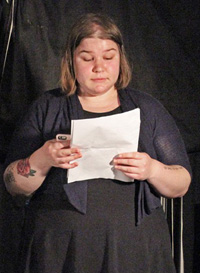 Alison O'Connor graduated from Columbia College with a degree in Poetry. Her poems have appeared in places such as North Chicago Review, Anapest, Aesthetic Apostle, Devise, and Habitat. She has read and performed at the Poetry Foundation, Improv Olympics, and The Green Mill.
Order Distilled Lives, Volume 4, ISPS Poetry Anthology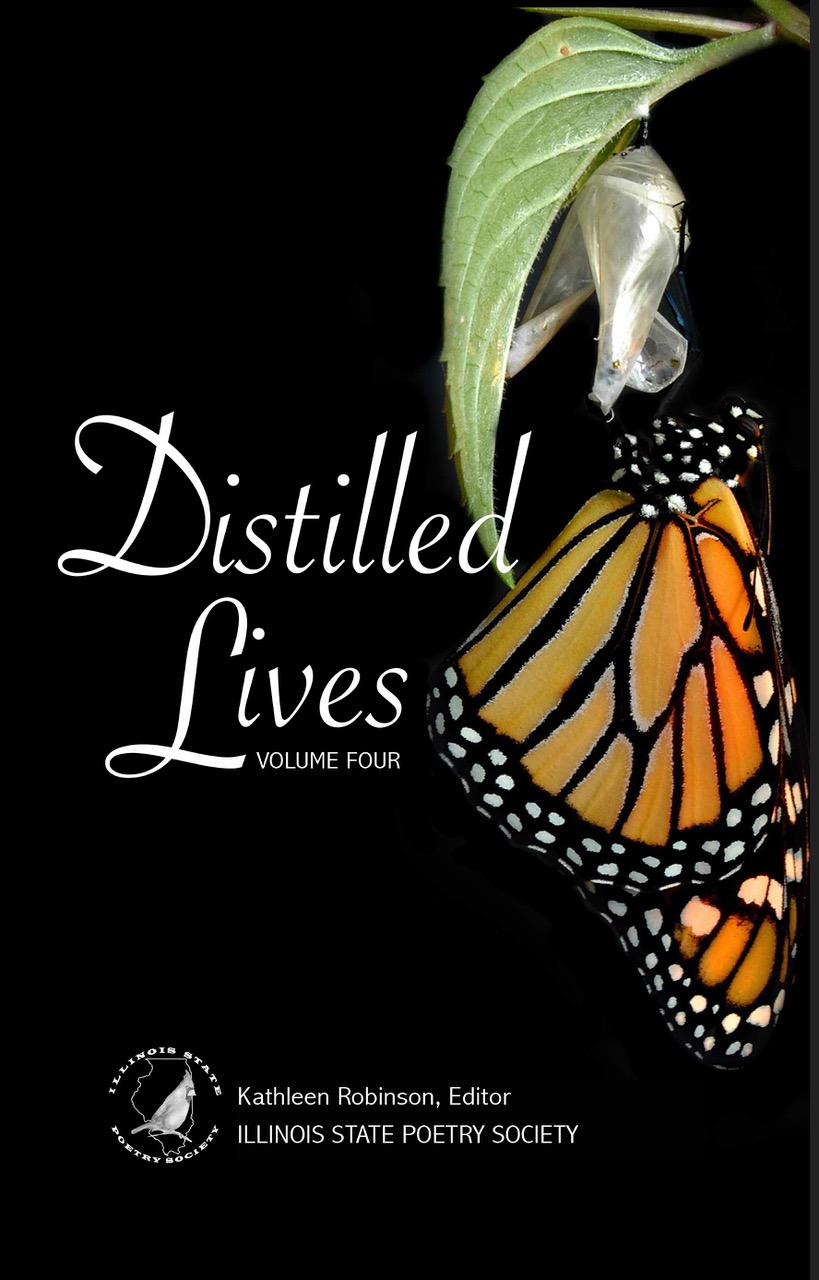 "What I love most about this wonderful 4th edition of Distilled Lives is its clarion call to pay thoughtful attention to the world around us and within us. For indeed, as these remarkable poets make clear in these poems, all of life is worthy of such sustained attention and creative response. In these pages, readers will be treated to unfamiliar experiences made viscerally accessible. So too, readers will be moved by fresh perspectives on familiar themes. Spanning a broad range of subject matter, style, and treatment, there are poems in this collection to appeal to every reader." —Arlyn Miller, Senior Editor of Poetic License Press
To Sample and Order at Amazon.com
Order Distilled Lives, Volume 3, ISPS Poetry Anthology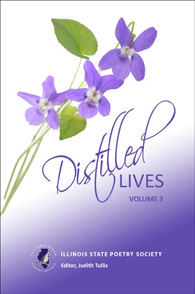 Distilled Lives, Volume 3, showcases the talented voices of sixty-seven Illinois State Poetry Society member poets who deal in a variety of styles about personal catastrophes and triumphs, grounded by the seasons and values of America's heartland. Quiet pleasures along with quiet griefs are given the same dose of wit and wisdom honed by the work of those with rolled-up sleeves in overalls as well as those with daily commuter passes in briefcases. This is a collection of powerful human stories lived with uniquely Midwestern ethics.
To Sample and Order at Amazon.com
Order Distilled Lives, Volume 2, ISPS Poetry Anthology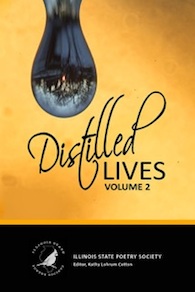 Distilled Lives, Volume 2, is a rich and diverse collection of poetry from members of the Illinois State Poetry Society. Represented in the anthology are new word-crafters alongside poets in their nineties who have been writing throughout their lives. There are first-timers as well as Pulitzer Prize and National Book Award nominee James Reiss and the prolific Joan Colby and Jacob Erin-Cilberto, each with more than a dozen volumes to their credit. You will find formal forms, poems with stylized messages, rhymed lines, and prose-poem paragraphs.The lives distilled here offer a panoply of poetic style and individual creativity, a challenging and comforting gift of words offered by eighty-one representatives of ISPS.
To Sample and Order at Amazon.com
Order Distilled Lives, Volume 1, ISPS Poetry Anthology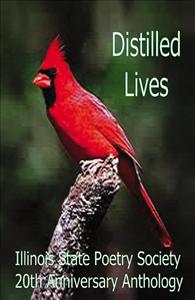 Seventy-five members of Illinois State Poetry Society have, as their 20th anniversary anthology's title promises, distilled life with its vicissitudes and revelations. Poems weave universal themes in rhyme and free verse while presenting fresh, provocative and sometimes metaphysical insights. Humor, pathos, reverie and existentialism, among other diverse tones, combine in this entertaining and insightful collection.
Sneak Peek
To Order



Contact Us
If you have questions or feedback regarding this website, please click the link below to send us an e-mail. We welcome your thoughts.
Website design and maintenance by Alan Harris at