Home Page
Poetry Competition
ISPS Member Poems
Poem Index by Poet
Poem Index by Title
Poet Bios
ISPS Member Books
Submitting Poems
About ISPS
To Join ISPS
Guestbook
Other Sites
Benefactors ($50)
Jocelyn Ajami
Mary Jo Balistreri
Joe Glaser
Chris Holaves
Lee Johnson
Farouk Masud
Myron Stokes

Patrons ($30)
David LaRue Alexander
Camille Balla
William Carey
Debbie Crawford
Carole Croll
Michael Freveletti
Dan Fitzgerald
Georgiann Foley
John J. Gordon
Larry Hays
Melissa Huff
Sheila Kirscher
Emma A. Kowalenko
Jim Lambert
Bonnie Leer
Georgina Milsted
Tom Moran
Kathleen Robinson
Nancy Schaefer
Irfanulla Shariff
Rick Shaw
Ruth Siburt
Joe Solberg
Judith Tullis

In Memoriam
Sally Hanson Calhoun
Nancy Jean Carrigan
David Christensen
Don Cornwell
Phillip Egelston
Jonathan Foster, OFM
Patricia Gangas
Chris Holaves
Glenna Holloway
Usha Mahisekar
John Mahoney
Marguerite McClelland
Martha S. Moss
John Pawlik
Ina Perlmuter
James Reiss
Marge Samuel
Doyle Raymond Vines
Paul J. Wolf



Welcome to this website for the Illinois State Poetry Society, connecting ISPS members with each other and with the general public. Here you'll find information for and about this group of serious poets. Since June of 2000 we have been posting bimonthly editions of poetry written by ISPS members. All ISPS members are invited to submit a poem each two-month period. (How and when to submit) You are invited to read the ISPS member poems and haiga posted in December 2019 as well as previous postings.

To join ISPS through June, , please fill out our Membership Form and mail it with a check for $20.00. You don't have to be an Illinois resident to join ISPS, but you do need to be an ISPS member to have your poems posted in this website.
---
Upcoming ISPS Meetings
---
A Message from the ISPS President, October, 2019
by Susan T. Moss, ISPS President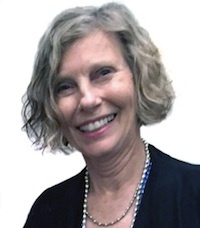 Green is giving way to autumn orange, red and yellow as I write this message on a rainy day. The inclement weather begs a response to the call of words and ideas while I sit comfortably at my desk and write both this letter and poetry.
There continue to be more and more opportunities to collaborate with artists as we create ekphrastic poetry. Recently, poets and artists gathered in Wheaton with their interpretations of archetypes. In keeping with the same approach, not long ago I was contacted by the Director of Communications at the Addison Center for the Arts who invited ISPS to be part of an exhibition with the Elk Grove Arts Guild. Another idea that might come to fruition is a chance to be part of a Wilmette Library event next April. Our collective communities seem to be pursuing more poetry, and the opportunities to join these endeavors are well worth our creative energy. Also watch for reading opportunities at bookstores around the Chicago area and south to Pontiac and beyond.
Not long ago, at a grocery store, I chatted with a poet I met a few years ago at a workshop in Wisconsin. Although living not too far apart, our paths seldom cross, but we quickly took up the topic of writing poetry. Our mutual interest had made a permanent bond between us, and discussion of calling ourselves poets ensued at the shopping cart return. We both decided that every poet has to come to the personal decision to claim "poet" as a comfortable moniker.
After further discussion about crafting poems, it became apparent that there are those of us who frequently get ideas, phrases, single words and a sense of energy related to poetry which float into our consciousness at no particular time or place. Clearly, there are also specific moments and locations that evoke a poetic reaction, and these fleeting insights are exciting and often elusive unless written down soon after they come our way. However, these insights can happen while out walking, for example, and you could even miss saying hello to someone or continue past your street while absorbed in a poetic reverie.
It's all quite rewarding when our existence becomes infused with unbidden creative ideas. Such gifts require that we pay attention when they appear, and they often become more frequent when we spend increased time thinking and writing. Basically, creativity begets creativity.
Happy writing,
Susan T. Moss
stm48@hotmail.com
Pontiac Poetry Reading Saturday, January 25,2020
The Pontiac chapter of ISPS will hold a poetry reading on Saturday, January 25 from 6 pm to 8 pm at the Cup and Scone coffee house. The Cup and Scone is at 213 W Madison St, Pontiac IL 61764. The phone number is 815-255-9870.
The Cup and Scone website is at https://thecupandthescone.com/ and you can get driving directions on that page, but you have to scroll down.
ISPS members will read their poetry, and there will also be an open mike session for anyone who wants to read. Everyone is welcome!
"Last Sunday" Poetry Reading, January 26, 2020
Mary Beth Bretzlauf will be featured poet at Brewed Awakening (19 West Quincy) in Westmont, IL, on Sunday, January 26. Since there is only one featured poet, there will be a longer open mic than usual. It will include two contests (with prizes): 1- the best New Year's Poem and 2- the best January poem that doesn't reference the new year. The event runs from 12:30-2:00 p.m. Cover charge of $12 entitles you to a beverage (coffee, cappuccino, soda, fruit drink, etc.) and a snack.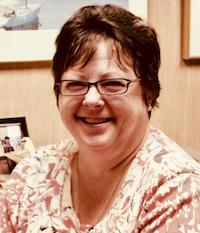 Mary Beth Bretzlauf is a life-long Lake County resident. She fell in love with writing in high school. Her creative writing teacher, poet Jean MacCready invited her student to be part of her poetry group after graduation. However, it wasn't until her nest got empty, that Mary Beth took up writing again. She is a member of two writing groups, one that has been meeting every two weeks for more than ten years. Mary Beth's poems have been published in Highland Park Poetry's Coffee, Tea and Other Beverages, Voices of the Past, and Driving Cars which she co-edited with Jennifer Dotson. Her work has also appeared in East on Central, Volumes 17 and 18. Mary Beth is the facilitator for the North Suburban Chapter of the Illinois State Poetry Society, a Board Member of the ISPS, and chairperson for the state's Manningham Poetry Competition for middle and high school students. She is currently working on publishing her first chapbook.
Order Distilled Lives, Volume 4, ISPS Poetry Anthology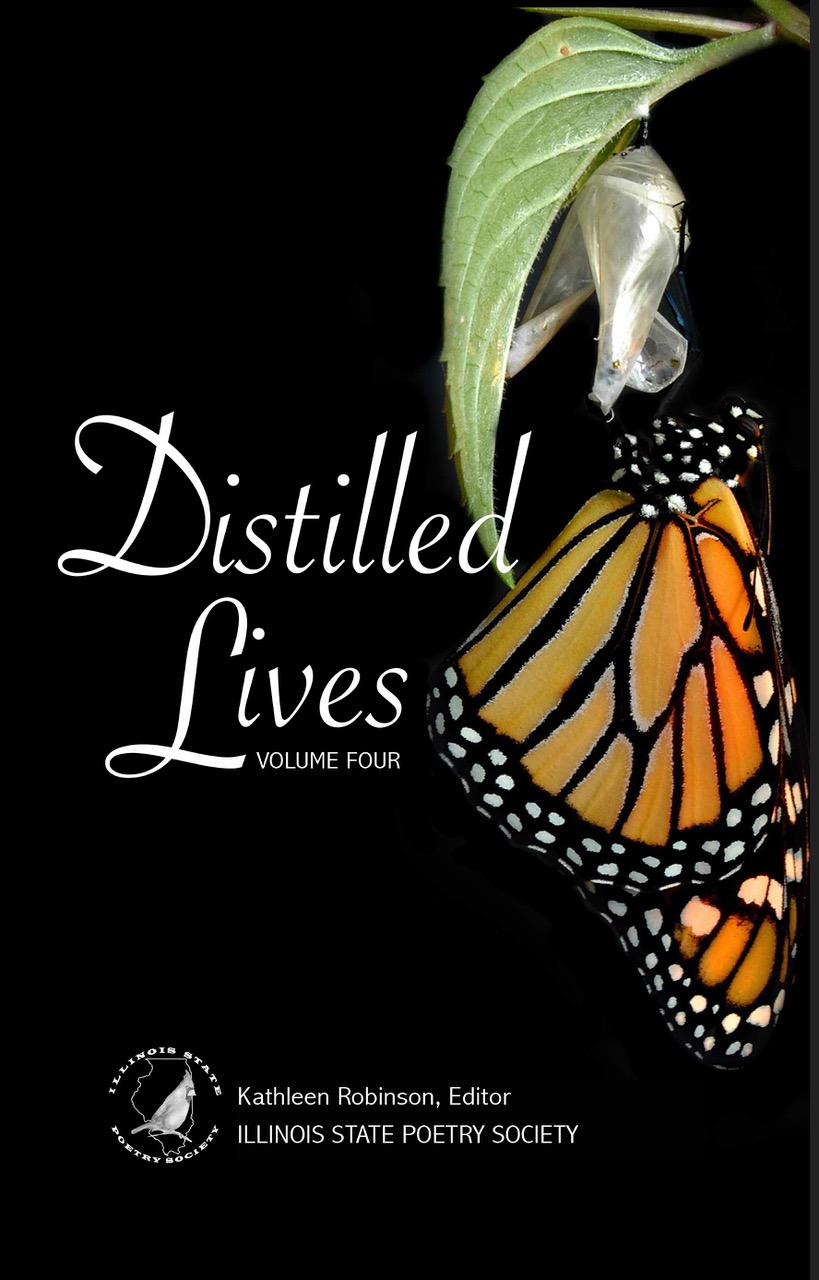 "What I love most about this wonderful 4th edition of Distilled Lives is its clarion call to pay thoughtful attention to the world around us and within us. For indeed, as these remarkable poets make clear in these poems, all of life is worthy of such sustained attention and creative response. In these pages, readers will be treated to unfamiliar experiences made viscerally accessible. So too, readers will be moved by fresh perspectives on familiar themes. Spanning a broad range of subject matter, style, and treatment, there are poems in this collection to appeal to every reader." —Arlyn Miller, Senior Editor of Poetic License Press
To Sample and Order at Amazon.com
Order Distilled Lives, Volume 3, ISPS Poetry Anthology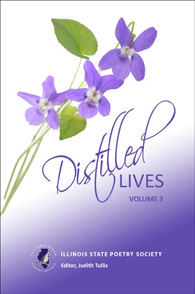 Distilled Lives, Volume 3, showcases the talented voices of sixty-seven Illinois State Poetry Society member poets who deal in a variety of styles about personal catastrophes and triumphs, grounded by the seasons and values of America's heartland. Quiet pleasures along with quiet griefs are given the same dose of wit and wisdom honed by the work of those with rolled-up sleeves in overalls as well as those with daily commuter passes in briefcases. This is a collection of powerful human stories lived with uniquely Midwestern ethics.
To Sample and Order at Amazon.com
Order Distilled Lives, Volume 2, ISPS Poetry Anthology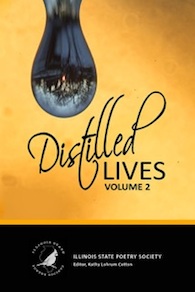 Distilled Lives, Volume 2, is a rich and diverse collection of poetry from members of the Illinois State Poetry Society. Represented in the anthology are new word-crafters alongside poets in their nineties who have been writing throughout their lives. There are first-timers as well as Pulitzer Prize and National Book Award nominee James Reiss and the prolific Joan Colby and Jacob Erin-Cilberto, each with more than a dozen volumes to their credit. You will find formal forms, poems with stylized messages, rhymed lines, and prose-poem paragraphs.The lives distilled here offer a panoply of poetic style and individual creativity, a challenging and comforting gift of words offered by eighty-one representatives of ISPS.
To Sample and Order at Amazon.com
Order Distilled Lives, Volume 1, ISPS Poetry Anthology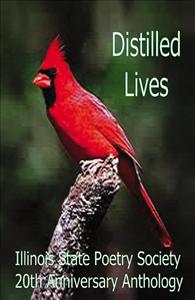 Seventy-five members of Illinois State Poetry Society have, as their 20th anniversary anthology's title promises, distilled life with its vicissitudes and revelations. Poems weave universal themes in rhyme and free verse while presenting fresh, provocative and sometimes metaphysical insights. Humor, pathos, reverie and existentialism, among other diverse tones, combine in this entertaining and insightful collection.
Sneak Peek
To Order



Contact Us
If you have questions or feedback regarding this website, please click the link below to send us an e-mail. We welcome your thoughts.
Website design and maintenance by Alan Harris at