Home Page
Poetry Competition
ISPS Member Poems
Poem Index by Poet
Poem Index by Title
Poet Bios
ISPS Member Books
Submitting Poems
About ISPS
To Join ISPS
Guestbook
Other Sites
Benefactors ($50)
Mary Jo Balistreri
Joe Glaser
Chris Holaves
Ina Perlmuter
Conrad Selznick
Myron Stokes

Patrons ($30)
David LaRue Alexander
William Carey
Christine Cianciosi
Debbie Crawford
Carole Croll
Dan Fitzgerald
Georgiann Foley
Marilyn Giese
Larry Hays
Katherine Hutchinson
Lee Johnson
Sheila Kirscher
Emma A. Kowalenko
Jim Lambert
Pam Larson
Georgina Milsted
Tom Moran
Jenene Ravesloot
Kathleen Robinson
Tom Roby
Irfanulla Shariff
Judith Tullis
Arthur Voellinger
Donald Wier

In Memoriam
Sally Hanson Calhoun
Nancy Jean Carrigan
David Christensen
Don Cornwell
Phillip Egelston
Patricia Gangas
Chris Holaves
Glenna Holloway
Usha Mahisekar
John Mahoney
Marguerite McClelland
Martha S. Moss
John Pawlik
James Reiss
Marge Samuel
Doyle Raymond Vines
Paul J. Wolf



Welcome to this website for the Illinois State Poetry Society, connecting ISPS members with each other and with the general public. Here you'll find information for and about this group of serious poets. Since June of 2000 we have been posting bimonthly editions of poetry written by ISPS members. All ISPS members are invited to submit a poem each two-month period. (How and when to submit) You are invited to read the ISPS member poems posted in October 2017 as well as previous postings.

To join ISPS through June, , please fill out our Membership Form and mail it with a check for $20.00. You don't have to be an Illinois resident to join ISPS, but you do need to be an ISPS member to have your poems posted in this website.
---
Upcoming ISPS Meetings
---
A Message from the President, October, 2017
by Susan T. Moss, ISPS President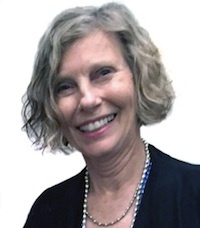 The first thing I would like to do is welcome Kathy Robinson who will be the facilitator of a new ISPS chapter starting in Champaign, Illinois. This is our seventh one, and as always members can attend any or all critique groups. The first meeting will be December 3, 2017, at the Champaign Library. The group will meet from 1:30 until 4:00 p.m. Thank you to Kathy for leading this chapter that will gather every month.
Writing poems sometimes includes words, quotes and phrases from other sources. This approach plus many other potential legal issues were addressed recently by Barry Irwin, vice president of Lawyers for the Creative Arts and adjunct professor at Notre Dame Law School. The informative program, held at the Indian Prairie Public Library, spawned many questions and lively discussions about such topics as what content can be copyrighted, how to register a copyright, cases of copyright infringement and legal defenses, and issues of fair use of copyrighted material, among several other topics. Of special interest to poets who are considering self-publishing, Barry described the key provisions of publishing contracts and self-publishing services. For details on the total presentation, go to his website www.irwinip.com/presentations and scroll down the page to "Legal Issues in Poetry".
As leaves begin to turn in my neighborhood and cooler evenings play havoc with porch time, I can feel myself draw a little more inward. Creativity starts to shed summer lethargy and begins to percolate fresh poetic ideas. Maybe it's the crisp air that awakens new energy or seeing things in a different light, but each of these fresh points of view offers further conversations with myself leading to the potential for another poem. It's in the writing and rewriting that we can find voices not heard from before and other insights to ourselves and the world.
Happy writing,
Susan T. Moss
stm48@hotmail.com
"Last Sunday" Poetry Readings, Jan. 28, 2018
Two award-winning Chicago-area poets, Lennart Lundh and Virginia Bell will be featured readers at Brewed Awakening, 19 West Quincy (across from the METRA station), Westmont, on Sunday, January 28, 2018, 12:30-2:00 p.m. Cover charge of $10.00 includes beverage and snack. There will also be an open mic.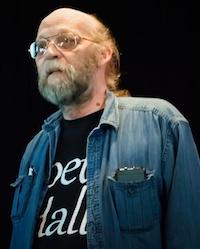 Lennart Lundh is a poet, short-fictionist, historian, and photographer. He has read his poetry in various venues in Illinois, Indiana, Ohio, and Pennsylvania. The most recent of his 13 poetry chapbooks and collections is Arbor and Winepress: Selected Poems 1967-2017. The limited-edition Poems Against Cancer chapbooks are an annual fundraiser in support of the St. Baldrick Foundation. He is also the author of two collections of short stories, plus six books and a score of articles on military aviation and vehicles. His photography has appeared in a dozen anthologies, and been included in several exhibits at the Rochester Community Arts Center in New York.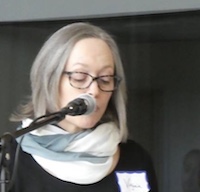 Virginia Bell is the author of From the Belly (Sibling Rivalry Press 2012). Her work has appeared in Hypertext Magazine, Fifth Wednesday, Cider Press Review, Gargoyle, Stirring: A Literary Collection, Rogue Agent, Cloudbank, Spoon River Poetry Review, Calyx, Poet Lore, Pebble Lake Review, and other journals and anthologies. She is the recipient of a Pushcart Prize nomination and Ragdale Foundation residency. She is also an editor with RHINO and an adjunct professor of English at Loyola University Chicago, DePaul University, and The Chicago High School for the Arts.
Order Distilled Lives, Volume 3, ISPS Poetry Anthology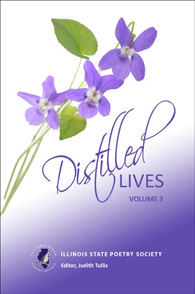 Distilled Lives, Volume 3, showcases the talented voices of sixty-seven Illinois State Poetry Society member poets who deal in a variety of styles about personal catastrophes and triumphs, grounded by the seasons and values of America's heartland. Quiet pleasures along with quiet griefs are given the same dose of wit and wisdom honed by the work of those with rolled-up sleeves in overalls as well as those with daily commuter passes in briefcases. This is a collection of powerful human stories lived with uniquely Midwestern ethics.
To Sample and Order at Amazon.com
Order Distilled Lives, Volume 2, ISPS Poetry Anthology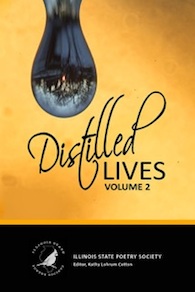 Distilled Lives, Volume 2, is a rich and diverse collection of poetry from members of the Illinois State Poetry Society. Represented in the anthology are new word-crafters alongside poets in their nineties who have been writing throughout their lives. There are first-timers as well as Pulitzer Prize and National Book Award nominee James Reiss and the prolific Joan Colby and Jacob Erin-Cilberto, each with more than a dozen volumes to their credit. You will find formal forms, poems with stylized messages, rhymed lines, and prose-poem paragraphs.The lives distilled here offer a panoply of poetic style and individual creativity, a challenging and comforting gift of words offered by eighty-one representatives of ISPS.
To Sample and Order at Amazon.com
Order Distilled Lives, Volume 1, ISPS Poetry Anthology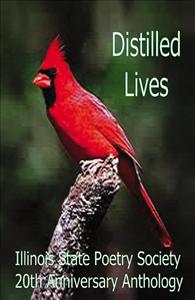 Seventy-five members of Illinois State Poetry Society have, as their 20th anniversary anthology's title promises, distilled life with its vicissitudes and revelations. Poems weave universal themes in rhyme and free verse while presenting fresh, provocative and sometimes metaphysical insights. Humor, pathos, reverie and existentialism, among other diverse tones, combine in this entertaining and insightful collection.
Sneak Peek
To Order



Contact Us
If you have questions or feedback regarding this website, please click the link below to send us an e-mail. We welcome your thoughts.
Website design and maintenance by Alan Harris at