Home Page
Poetry Competition
ISPS Member Poems
Poem Index by Poet
Poem Index by Title
Poet Bios
ISPS Member Books
Submitting Poems
About ISPS
To Join ISPS
Guestbook
Other Sites
Benefactors ($50)
Jocelyn Ajami
Mary Jo Balistreri
Joe Glaser
Chris Holaves
Lee Johnson
Farouk Masud
Myron Stokes

Patrons ($30)
David LaRue Alexander
Camille Balla
William Carey
Debbie Crawford
Carole Croll
Michael Freveletti
Dan Fitzgerald
Georgiann Foley
Karen Fullett-Christensen
John J. Gordon
Larry Hays
Melissa Huff
Sheila Kirscher
Emma A. Kowalenko
S. Michael Kozubek
Jim Lambert
Bonnie Leer
Gari Light
Carol Marcus
Georgina Milsted
Tom Moran
Kathleen Robinson
Nancy Schaefer
Irfanulla Shariff
Rick Shaw
Ruth Siburt
Joe Solberg
Judith Tullis
Linda Wallin

In Memoriam
Sally Hanson Calhoun
Nancy Jean Carrigan
David Christensen
Don Cornwell
Phillip Egelston
Jonathan Foster, OFM
Patricia Gangas
Chris Holaves
Glenna Holloway
Usha Mahisekar
John Mahoney
Marguerite McClelland
Martha S. Moss
John Pawlik
Ina Perlmuter
James Reiss
Marge Samuel
Doyle Raymond Vines
Paul J. Wolf



Welcome to this website for the Illinois State Poetry Society, connecting ISPS members with each other and with the general public. Here you'll find information for and about this group of serious poets. Since June of 2000 we have been posting bimonthly editions of poetry written by ISPS members. All ISPS members are invited to submit a poem each two-month period. (How and when to submit) You are invited to read the ISPS member poems and haiga posted in April 2020 as well as previous postings. In March, 2020 we published a special edition of poems on the theme of "water".

To join ISPS through June, , please fill out our Membership Form and mail it with a check for $20.00. You don't have to be an Illinois resident to join ISPS, but you do need to be an ISPS member to have your poems posted in this website.
---
Upcoming ISPS Meetings
None are currently scheduled.
---
A Message from the ISPS President, March, 2020
by Susan T. Moss, ISPS President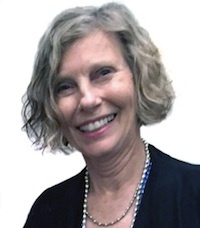 Dear ISPS members,
We are all aware of the COVID-19 virus and have to individually face its personal effects. In response, I am sending this letter sooner than usual as an invitation and reminder.
What is important to remember is that we hold a deep well of possible ways to soothe oneself and others. Our poems can be a private source of hope and guidance, and I invite us to look over our own work and discover the energy, motivations and possible reassurance we can give back to ourselves at this time of fear and potential isolation. We need to listen to personal words speaking back and filling us with creative, healing energy. Sometimes I surprise myself when I look at previous work and wonder who wrote it. The poetry came from deep within and remains available to retell the stories, dreams, concerns and soul-searching cures discovered during other times less haunting and scary.
It's a good time to write more work that expresses these longings for better days and the power of inner peace. There is also the gift we can give to others, both the poets and nonpoets. For example, we could make a personal video of reading a positive poem to send to family, friends and colleagues. Perhaps make a call and read a poem to someone or mail a copy to those important to us.
Each gesture of creative energy can make a difference in someone's life including our own. It's in the doing that we are able to keep in mind that, as Thornton Wilder stated in Our Town, "There's something way down deep that's eternal about every human being." We poets know that and can share our best selves. Good health and well-being to you.
Happy writing,
Susan T. Moss
stm48@hotmail.com
Order Distilled Lives, Volume 4, ISPS Poetry Anthology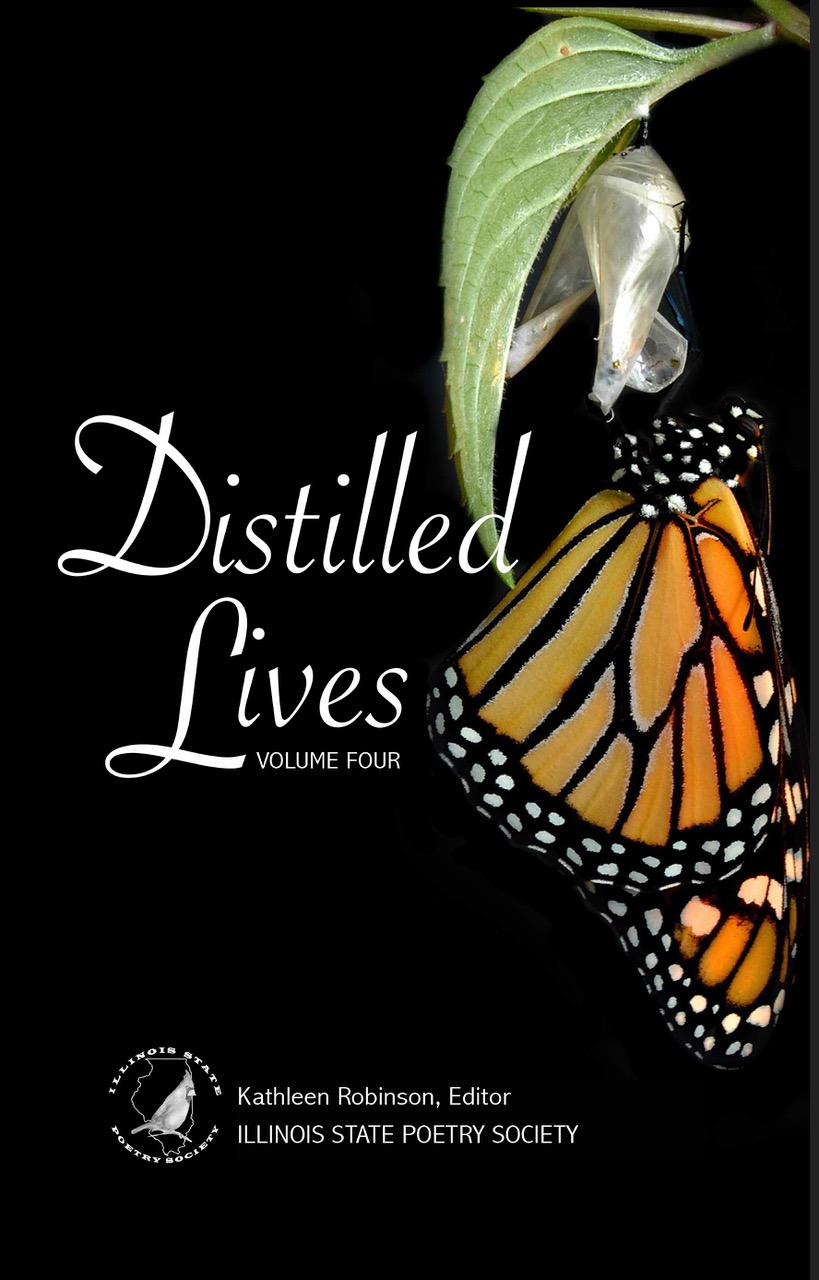 "What I love most about this wonderful 4th edition of Distilled Lives is its clarion call to pay thoughtful attention to the world around us and within us. For indeed, as these remarkable poets make clear in these poems, all of life is worthy of such sustained attention and creative response. In these pages, readers will be treated to unfamiliar experiences made viscerally accessible. So too, readers will be moved by fresh perspectives on familiar themes. Spanning a broad range of subject matter, style, and treatment, there are poems in this collection to appeal to every reader." —Arlyn Miller, Senior Editor of Poetic License Press
To Sample and Order at Amazon.com
Order Distilled Lives, Volume 3, ISPS Poetry Anthology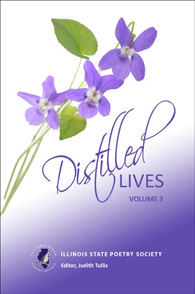 Distilled Lives, Volume 3, showcases the talented voices of sixty-seven Illinois State Poetry Society member poets who deal in a variety of styles about personal catastrophes and triumphs, grounded by the seasons and values of America's heartland. Quiet pleasures along with quiet griefs are given the same dose of wit and wisdom honed by the work of those with rolled-up sleeves in overalls as well as those with daily commuter passes in briefcases. This is a collection of powerful human stories lived with uniquely Midwestern ethics.
To Sample and Order at Amazon.com
Order Distilled Lives, Volume 2, ISPS Poetry Anthology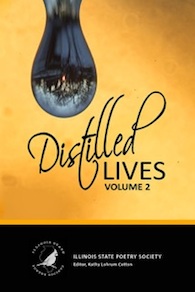 Distilled Lives, Volume 2, is a rich and diverse collection of poetry from members of the Illinois State Poetry Society. Represented in the anthology are new word-crafters alongside poets in their nineties who have been writing throughout their lives. There are first-timers as well as Pulitzer Prize and National Book Award nominee James Reiss and the prolific Joan Colby and Jacob Erin-Cilberto, each with more than a dozen volumes to their credit. You will find formal forms, poems with stylized messages, rhymed lines, and prose-poem paragraphs.The lives distilled here offer a panoply of poetic style and individual creativity, a challenging and comforting gift of words offered by eighty-one representatives of ISPS.
To Sample and Order at Amazon.com
Order Distilled Lives, Volume 1, ISPS Poetry Anthology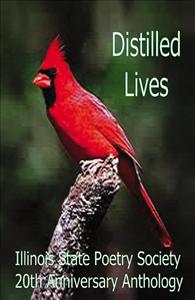 Seventy-five members of Illinois State Poetry Society have, as their 20th anniversary anthology's title promises, distilled life with its vicissitudes and revelations. Poems weave universal themes in rhyme and free verse while presenting fresh, provocative and sometimes metaphysical insights. Humor, pathos, reverie and existentialism, among other diverse tones, combine in this entertaining and insightful collection.
Sneak Peek
To Order