Home Page
Poetry Competition
ISPS Member Poems
Poem Index by Poet
Poem Index by Title
Poet Bios
ISPS Member Books
Submitting Poems
About ISPS
To Join ISPS
Guestbook
Other Sites
Benefactors ($50)
Mary Jo Balistreri
Robert Coté
Joe Glaser
Chris Holaves
Cathy Lou Pearson
Ina Perlmuter
Conrad Selznick
Myron Stokes

Patrons ($30)
David LaRue Alexander
William Carey
Christine Cianciosi
Carole Croll
Dan Fitzgerald
Georgiann Foley
Marilyn Giese
Lynne Handy
Larry Hays
Katherine Hutchinson
Lee Johnson
Sheila Kirscher
Jim Lambert
Pam Larson
Tom Moran
Jenene Ravesloot
Marjorie Rissman
Kathleen Robinson
Tom Roby
Rick Sadler
Nancy Schaefer
Irfanulla Shariff
Richard Shaw
Judith Tullis
Arthur Voellinger

In Memoriam
Sally Hanson Calhoun
Nancy Jean Carrigan
David Christensen
Don Cornwell
Phillip Egelston
Patricia Gangas
Chris Holaves
Glenna Holloway
Usha Mahisekar
John Mahoney
Marguerite McClelland
Martha S. Moss
John Pawlik
James Reiss
Marge Samuel
Doyle Raymond Vines
Paul J. Wolf



Welcome to this website for the Illinois State Poetry Society, connecting ISPS members with each other and with the general public. Here you'll find information for and about this group of serious poets. Since June of 2000 we have been posting bimonthly editions of poetry written by ISPS members. All ISPS members are invited to submit a poem each two-month period. (How and when to submit) You are invited to read the ISPS member poems posted in October 2017 as well as previous postings.

To join ISPS through June, , please fill out our Membership Form and mail it with a check for $20.00. You don't have to be an Illinois resident to join ISPS, but you do need to be an ISPS member to have your poems posted in this website.
---
Upcoming ISPS Meetings
---
A Message from the President, August, 2017
by Susan T. Moss, ISPS President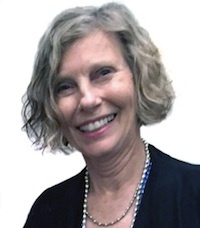 Summer is well underway, and this year's National Federation of State Poetry Societies convention in Fort Worth, Texas, has come and gone. As always, various presentations and workshops plus opportunities to meet new and returning NFSPS members offered a rich experience that feeds my appreciation for ISPS and our wonderful poets as well as those from across the country.
One of the program presenters discussed "poetic effects through sounds" and how various music-like patterns help take a poem beyond mere words and meter. Use of alliteration, assonance, consonance, onomatopoeia and rhyme were the tools. "Meaning and metaphor" was another workshop, again focusing on how to make poetry more musical with its sonority and images, flow and turns. On the last evening, the takeaway from keynote speaker, Carmen Tafolla, was that "poetry is looking at something with new eyes; that is poetry's challenge." She stressed that we need to write "from who you are—the authenticity of self."
Next year's convention will be in Denver from May 31-June 3. Consider attending and joining other ISPS members who have discovered the camaraderie and insights offered at these gatherings.
On the subject of ISPS members, the new ISPS Board is complete with the following people: Susan T. Moss, president; Jim Lambert, vice president; Melissa Huff, secretary; Judith Tullis, treasurer; Susan Auld, chapter facilitator; Kathy Cotton, chapter facilitator and newsletter editor; Barbara Eaton, chapter facilitator; Frank Hubeny, at-large member; Carolyn Jevelian, historian; Caroline Johnson, chapter facilitator; Sheila Kirscher, at-large member; and Kathleen Murphy, chapter facilitator. We are looking forward to continuing to offer more events and venues for our poetry in both spoken and written forms. If you have some thoughts about programs, please let one of us know. I often hear from our affiliates who suggest poetic opportunities that become realities.
It has been a privilege to share so many plans, discussions, ideas and talent with those committed people who have been or are still on the board. I am also looking forward to working with our new members and our expert and accommodating webmaster, Alan Harris, as well as those poets who continue to help organize art gallery, library and bookstore events among other opportunities to bring our poetry into the world.
Happy writing,
Susan T. Moss
stm48@hotmail.com
"Last Sunday" Reading, October 29, 2017
On Sunday, October 29, 2017 Robin Chapman and Catherine Jagoe will be reading their poems at the "Last Sunday" reading sponsored by the Illinois State Poetry Society and Brewed Awakening, the coffee shop in Westmont. The event will be from 12:30 p.m. to 2:00 p.m. and includes an open mic. The $10 cover charge entitles each person to coffee or other beverage and a snack. Brewed Awakening is located at 19 West Quincy, across from the METRA station in Westmont.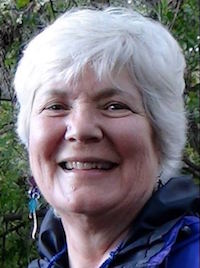 Robin Chapman is a scientist and poet. She is author of nine full-length poetry collections, including The Way In and Images of a Complex World: The Art and Poetry of Chaos (with J.C. Sprott's fractals), both winners of the Posner Poetry Award; The Dreamer Who Counted the Dead, winner of an Outstanding Achievement Poetry Award from the Wisconsin Library Association, and Abundance, winner of the Cider Press Editors' Award. Her chapbooks include The Only Everglades in the World, an account of a tandem kayaking trip through the national park. She co-edited the anthology On Retirement: 75 Poems. Her poems have appeared in The American Scholar, The Hudson Review, The Iowa Review, and OnEarth, and in numerous anthologies. A recipient of three Wisconsin Arts Board grants, she is a member of Poetry Fire Poetry Quartet. Her poems have been incorporated in paintings and set to music. Co-founder of Epidemic Peace Imagery, an exhibit of poetry and painting from over 500 artists that has been traveling since 2003, she is a professor emerita of Communicative Disorders at the University of Wisconsin-Madison. She received the 2006 Career Research Scientist award from the Academy on Mental Retardation for her work on language learning in children and adolescents with Down syndrome. She teaches poetry workshops at The Clearing, a folk school in Door County, and elsewhere.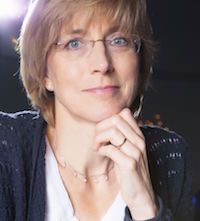 Catherine Jagoe is a British-American translator, poet and lyric essayist. She moved to the US in the 1980's after completing a PhD in Spanish Literature from the University of Cambridge and taught at Northern Illinois University and the University of Wisconsin-Madison. Her poetry book Bloodroot won the Settlement House American Poetry Prize, the Council for Wisconsin Writers 2016 poetry book award and the Wisconsin Library Association Outstanding Work in Poetry award. She has also published three poetry chapbooks, Casting Off, News from the North and What the Sad Say. Her poems have been featured by Garrison Keillor on The Writer's Almanac and also on Poetry Daily. She translates from Spanish and Catalan, including novels by the 19th-century classic author Pérez Galdós and the Amnesty International award-winner Elsa Osorio. Examples of Catherine's current translations of contemporary Uruguayan poetry appear in American Poetry Review, Modern Poetry in Translation, Drunken Boat, International Poetry Review, Words Without Borders and many other magazines. Her essays have appeared in The Pushcart Prize XL: Best of the Small Presses, 2016 edition, The Gettysburg Review, Chautauqua, American Athenaeum, and Ninth Letter, as well as on the "Wisconsin Life" series at Wisconsin Public Radio. She has won poetry and nonfiction awards from the Council for Wisconsin Writers, the Hal Prize and So To Speak magazine as well as a Pushcart Prize.
Order Distilled Lives, Volume 3, ISPS Poetry Anthology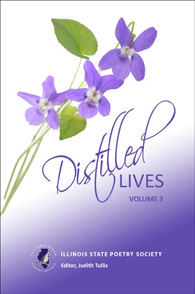 Distilled Lives, Volume 3, showcases the talented voices of sixty-seven Illinois State Poetry Society member poets who deal in a variety of styles about personal catastrophes and triumphs, grounded by the seasons and values of America's heartland. Quiet pleasures along with quiet griefs are given the same dose of wit and wisdom honed by the work of those with rolled-up sleeves in overalls as well as those with daily commuter passes in briefcases. This is a collection of powerful human stories lived with uniquely Midwestern ethics.
To Sample and Order at Amazon.com
Order Distilled Lives, Volume 2, ISPS Poetry Anthology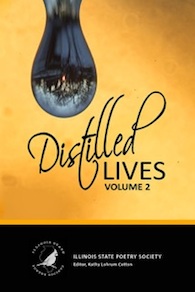 Distilled Lives, Volume 2, is a rich and diverse collection of poetry from members of the Illinois State Poetry Society. Represented in the anthology are new word-crafters alongside poets in their nineties who have been writing throughout their lives. There are first-timers as well as Pulitzer Prize and National Book Award nominee James Reiss and the prolific Joan Colby and Jacob Erin-Cilberto, each with more than a dozen volumes to their credit. You will find formal forms, poems with stylized messages, rhymed lines, and prose-poem paragraphs.The lives distilled here offer a panoply of poetic style and individual creativity, a challenging and comforting gift of words offered by eighty-one representatives of ISPS.
To Sample and Order at Amazon.com
Order Distilled Lives, Volume 1, ISPS Poetry Anthology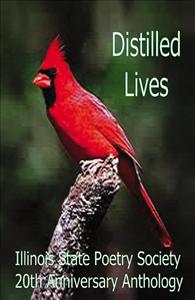 Seventy-five members of Illinois State Poetry Society have, as their 20th anniversary anthology's title promises, distilled life with its vicissitudes and revelations. Poems weave universal themes in rhyme and free verse while presenting fresh, provocative and sometimes metaphysical insights. Humor, pathos, reverie and existentialism, among other diverse tones, combine in this entertaining and insightful collection.
Sneak Peek
To Order



Contact Us
If you have questions or feedback regarding this website, please click the link below to send us an e-mail. We welcome your thoughts.
Website design and maintenance by Alan Harris at