Home Page
Poetry Competition
ISPS Member Poems
Poem Index by Poet
Poem Index by Title
Poet Bios
ISPS Member Books
Submitting Poems
About ISPS
To Join ISPS
Guestbook
Other Sites
Benefactors ($50)
Mary Jo Balistreri
Joe Glaser
Chris Holaves
Farouk Masud
Ina Perlmuter
Conrad Selznick
Myron Stokes

Patrons ($30)
David LaRue Alexander
William Carey
Christine Cianciosi
Debbie Crawford
Carole Croll
Dan Fitzgerald
Georgiann Foley
Marilyn Giese
John Gordon
Larry Hays
Katherine Hutchinson
Lee Johnson
Sheila Kirscher
Emma A. Kowalenko
Jim Lambert
Pam Larson
Georgina Milsted
Tom Moran
Jenene Ravesloot
Kathleen Robinson
Tom Roby
Irfanulla Shariff
Ruth Siburt
Joe Solberg
Judith Tullis
Donald Wier

In Memoriam
Sally Hanson Calhoun
Nancy Jean Carrigan
David Christensen
Don Cornwell
Phillip Egelston
Patricia Gangas
Chris Holaves
Glenna Holloway
Usha Mahisekar
John Mahoney
Marguerite McClelland
Martha S. Moss
John Pawlik
James Reiss
Marge Samuel
Doyle Raymond Vines
Paul J. Wolf



Welcome to this website for the Illinois State Poetry Society, connecting ISPS members with each other and with the general public. Here you'll find information for and about this group of serious poets. Since June of 2000 we have been posting bimonthly editions of poetry written by ISPS members. All ISPS members are invited to submit a poem each two-month period. (How and when to submit) You are invited to read the ISPS member poems and haiga posted in June 2018 as well as previous postings.

To join ISPS through June, , please fill out our Membership Form and mail it with a check for $20.00. You don't have to be an Illinois resident to join ISPS, but you do need to be an ISPS member to have your poems posted in this website.
---
Upcoming ISPS Meetings
---
A Message from the ISPS President, June, 2018
by Susan T. Moss, ISPS President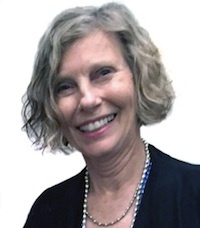 Summer has fully revealed itself. It feels like we are living in an aviary with all the bird talk of nests, chicks and what seems to be a shear joy of life blossoming everywhere. Our society also made a wonderful showing with eleven members who attended the NFSPS convention in Denver. Congratulations to all those ISPS poets who were successful in the national contest!
Beside the enthusiasm of so many attendees this year in Colorado, our society has reached a new high in membership of 167 poets, many of whom will have poems in the forthcoming anthology, Distilled Lives Volume 4. With more members comes the possibility of new interest and energy to help guide and serve ISPS.
A group like ours is a collective organization that relies on shared responsibility and collaboration of volunteers. Within a little over a decade, our society has grown from one to seven chapters with greater geographic diversity, improved coordinated communication to all members, and expanded interest in sharing ideas, events and members' accomplishments. It's individual commitment that drives an organization like ISPS and helps us stay connected.
Beside email messages from "William Shakespeare" and written notes, our newsletter has always been a vital method of reaching out to members in hard-copy, email and on the website. Each editor has brought different formats and emphasis to what has become a very popular and efficient method of reaching our members. Kathy Cotton is no longer able to produce an ongoing letter but is happy to mentor a new volunteer who can bring his or her style and energy to this endeavor. We need a new editor, and it could be you.
We are also seeking a Manningham Contest Chair to manage and coordinate this student contest, which involves state winners who have the opportunity to be part of the national contest. Over the years we have had several winners who are acknowledged at the NFSPS convention. The position is another important part of what ISPS offers to celebrate and support poetry. Guidance and details are available to keep this outreach program alive and to maintain our state participation at both the local and national level.
Plans for the November 3 Gala are underway with volunteers helping to make this another exciting event. Mark your calendars and con- sider what you could do to help. Many of the needs are small but important to the success of this statewide gathering in Park Ridge.
When all is said and done, it's the poetry that we carry within and what needs to be record- ed that drives our society and brings together so many wonderful and talented people. I look forward to hearing from you as we continue our efforts to make ISPS all that it can be. Thank you, Kathy, for all your good work.
Happy writing,
Susan T. Moss
stm48@hotmail.com
"Last Sunday" Poetry Reading, July 29, 2018
Two highly respected poets, Christine Swanberg and Judith Valente, will be featured at Brewed Awakening, 19 W Quincy (across the street from the METRA Station in Westmont), on Sunday, July 29, 12:30-2:00 p.m. There will also be some open mic time. Cover charge of $10 includes cost of a beverage and snack.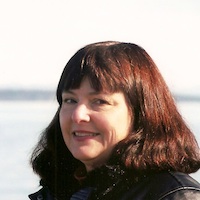 Christine Swanberg's books include Tonight on this Late Road, Invisible String, Bread Upon the Waters, Slow Miracle, The Tenderness of Memory, The Red Lacquer Room, Who Walks among the Trees with Charity, The Alleluia Tree, and Wild Fruition: Sonnets, Spells, and other Incantations. Her poetry appears in many journals and anthologies, including Spoon River, Wind, Louisville Review, Beloit Poetry Journal, Garden Blessings, Back to Joy, Gratitude Prayers and Poems and Earth Blessings. Christine gives readings and workshops throughout the United States. She has been a writing teacher and mentor for many years.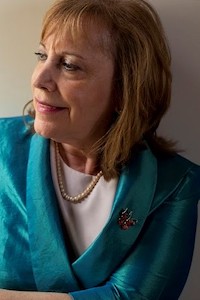 Judith Valente is the author of the poetry collection Discovering Moons (Virtual Artists Collective, Chicago, 2009) and the chapbook, Inventing An Alphabet, selected by Mary Oliver for the 2005 national Aldrich Poetry Prize. Her poems often explore in lush and surprising detail, the whimsical connections between the outer world and the inner spirit. Judith covered religion and spirituality for many years for national PBS-TV and reported on both religion and the poetry scene for Chicago Public Radio. She is the author of four books on how to live a more contemplative life, including The Art of Pausing: Meditations for the Overworked and Overwhelmed, and most recently How To Live: What The Rule of St. Benedict Teaches Us About Happiness, Meaning and Community.
Order Distilled Lives, Volume 3, ISPS Poetry Anthology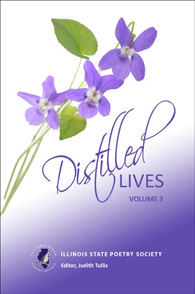 Distilled Lives, Volume 3, showcases the talented voices of sixty-seven Illinois State Poetry Society member poets who deal in a variety of styles about personal catastrophes and triumphs, grounded by the seasons and values of America's heartland. Quiet pleasures along with quiet griefs are given the same dose of wit and wisdom honed by the work of those with rolled-up sleeves in overalls as well as those with daily commuter passes in briefcases. This is a collection of powerful human stories lived with uniquely Midwestern ethics.
To Sample and Order at Amazon.com
Order Distilled Lives, Volume 2, ISPS Poetry Anthology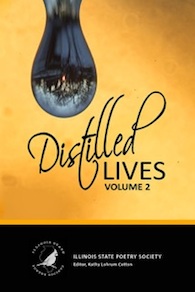 Distilled Lives, Volume 2, is a rich and diverse collection of poetry from members of the Illinois State Poetry Society. Represented in the anthology are new word-crafters alongside poets in their nineties who have been writing throughout their lives. There are first-timers as well as Pulitzer Prize and National Book Award nominee James Reiss and the prolific Joan Colby and Jacob Erin-Cilberto, each with more than a dozen volumes to their credit. You will find formal forms, poems with stylized messages, rhymed lines, and prose-poem paragraphs.The lives distilled here offer a panoply of poetic style and individual creativity, a challenging and comforting gift of words offered by eighty-one representatives of ISPS.
To Sample and Order at Amazon.com
Order Distilled Lives, Volume 1, ISPS Poetry Anthology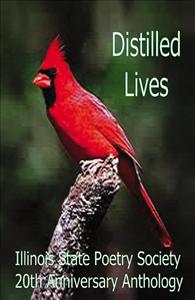 Seventy-five members of Illinois State Poetry Society have, as their 20th anniversary anthology's title promises, distilled life with its vicissitudes and revelations. Poems weave universal themes in rhyme and free verse while presenting fresh, provocative and sometimes metaphysical insights. Humor, pathos, reverie and existentialism, among other diverse tones, combine in this entertaining and insightful collection.
Sneak Peek
To Order



Contact Us
If you have questions or feedback regarding this website, please click the link below to send us an e-mail. We welcome your thoughts.
Website design and maintenance by Alan Harris at